Down to the nitty gritty...
40. Here I Go Again On My Own: Whitesnake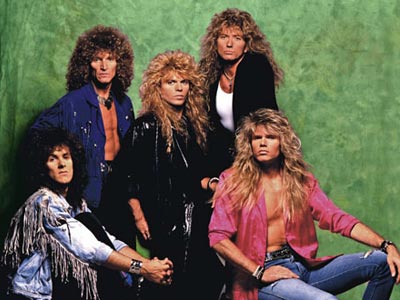 Hairspray bands had a ball during the 80's and Whitesnake's hit was considered by us as the best and most popular. And we get introduced to Tawny Kitaen
39. Eternal Flame: The Bangles
This song will always be embedded in our heads forever. I know there are many a people who know all the words. Don't be scared. We do to.
38. Wake Me Up Before You Go-Go: Wham
Such a popular song. I don't get why it is so mocked? Its very upbeat and you can dance gay-ly to it.
37. Through The Fire: Chaka Khan
This song would probably make our top list of all-time favorite songs. Every facet of this song is brilliance. Chaka was solid gold with this song.
36. You Shook Me All Night Long: AC/DC
A rock and roll masterpiece. AC/DC scored one of their most popular tunes with this one. Its one of those songs that gets you amped before you do anything.
35. Take On Me: Aha
Everyone will remember their video. The cartoon drawing. But the song was equally catchy and something you can sing along too.
34. Time After Time: Cyndi Lauper
Beautiful song. Weird artist. But she makes this list because of her popularity in the 80's.
33. Every Breath You Take: The Police
What can you say about this song that hasn't been said yet? The only blemish was that Diddy redid this song so terribly. No one can ever hold a candle to the original.
32. How Will I Know: Whitney Houston
Let's face it. When you're in the car and this song plays. You sing along with it. This was Whitney's breakout song. She was so beautiful in the 80's which made us question what the hell happened.
31. Walk This Way: Aerosmith and Run D.M.C
You talk about a song that revolutionized music. This was it. No one has ever collaborated like this prior to this song. And both sounds of Steven Tyler and the rest of RUN DMC made for a historical song.
30. Come On Eileen: Dexys Midnight Runners
Behind it is a sexually laced song, but who cares. This song was popular in the 80's and will continue to sing it today.
29. You've Lost That Loving Feeling: Hall and Oates
No one could touch Hall and Oates in the 80's. Superb group. Fascinating stories. Fantastic lyrics. Just a set of brilliant minds producing one of a kind music.
28. You're The Inspiration: Chicago
Peter Cetera's back must be hurting constantly carrying Chicago with hit after hit. This one puts all love songs to shame.
27. Mr. Telephone Man: New Edition
Talk about bubble gum pop at the time. New Edition provided that for you. All they wanted to do was talk to their favorite girls. Thank God for anytime minutes!
26. Celebration: Kool and the Gang
Whatever the occassion, ballgame, wedding, party. It is the ultimate get-together anthem. Kool and the Gang created this immortalized song and will never ever die.
25. Careless Whisper: George Michael
George Michael was another artist in the 80's who just made his name and added it to the best artists of the decade. This song was his most popular.
24. Let's Wait Awhile: Janet Jackson
This song made Janet such a versatile artist. Her energetic, well choreographed videos were always entertaining and popular, but she was a very underrated slow jam singer. Everyone knows the words to this song.
23. Lady In Red: Chris Deburgh
You know for a long period of time after this song aired, any lady you saw in red, this song pops into your mind. Today, its still in our heads.
22. Eye Of The Tiger: Survivor
The Rocky theme was its name. Every one gets going to this song. You can run up the streets climb any stairs and drink raw eggs after listening to this song.
21. Lately: Stevie Wonder
Just listen to Stevie's songs and tell me you don't like it. If you do, you have no idea what music is about. The original shits on Jodeci's version
The FINAL 20 TOMORROW!!!